NEW IN STOCK
We now have the FIGUREN MANUFAKTUR figures in stock. We had a delivery of the complete range, but several new advance orders mean we have already sold out of Steve McQueen in the film Le Mans. Don't worry if your order hasn't been filled yet, we have more on the way. See the COMPLETE RANGE of new figures by following the link.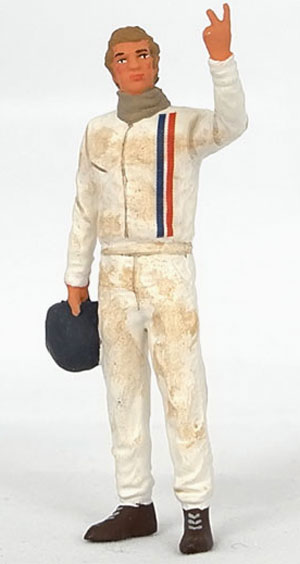 We also have some new LE MANS MINIATURES figures in stock, the driver Phil Hill and Jean-Luc Fireman seen at the Le Mans race circuit. Both nice additions to your scenery, with super LMM detail as usual.
DUE TO ARRIVE
The POLICAR March 701 Elf Jackie Stewart will be arriving. Some FALCON Porsche 924 Boss cars are on the way, the single car Porsche 924 Boss # 1 and also the Limited Edition twin-set Porsche 924 Boss # 1 and Porsche 924 Boss # 36 from Le Mans 1981. Other deliveries may also turn up.
NEW CARS ANNOUNCED
SLOT.IT have added another couple of cars to their 2018 schedule. The Toyota 86C will be released in Leyton House livery. The Mercedes Cosworth 190E has been confirmed, the first cars will arrive during the 3rd Quarter but no version details have been released yet. See below for a picture.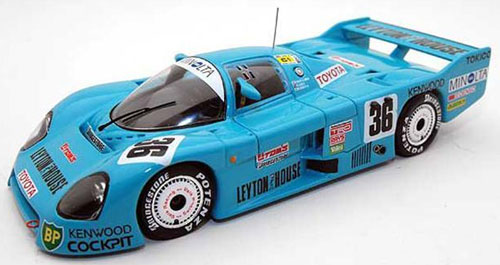 POLICAR have the new Ferrari 312B2 scheduled for 1st Quarter release, and it looks quite stunning. More versions are sure to follow later in the year. Early advance orders strongly reccommended !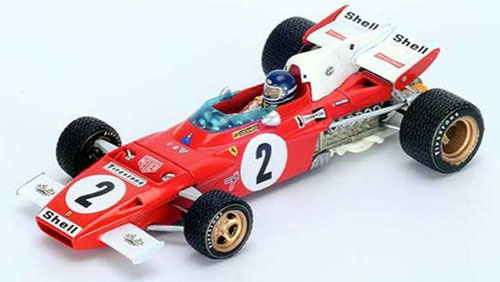 NSR have announced a new version of the Abarth 500 Trofeo Assetto that raced at Mugello and is a nice addition to this series.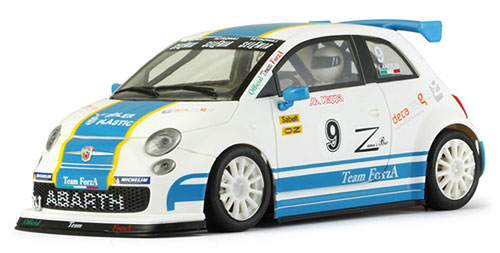 Of course the big new release news this week is the SCALEXTRIC 2018 range. Curiously done, because the catalogue only includes the first-half releases, but the pricelist shows the whole years production. We have included the whole years cars for advance orders, with the relevant months of release when you look closely at the details. Only one new high-detail car, the McLaren F1-GTR which will be available in three different versions. One of these hasn't been available as a slot car before, quite a feat considering the car has already been produced by three other manufacturers and more than 25 versions have already been released. If you want to see the uniqueSCALEXTRIC one here it is :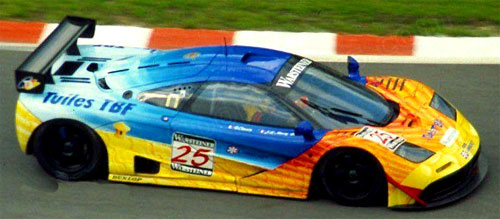 There are some new models in the low detail Super Resistant series. The Chevy Monte Carlo needs more discussion so see below in News Roundup. There is a Lamborghini Centanario which will be released in Green and Carbon (black ?) but only outline drawings are available. There is a new Super Resistant Formula 1 car that has four versions scheduled. Two of these are listed at the Williams F1 Massa and theMcLaren F1 Alonso but if you look carefully you can see they are the same mouldings with different decoration. Two mythical cars using the same tooling are also listed, a blue one and a red one that has ARC-PRO logos promoting SCALEXTRIC's own system.
There are a couple of cheeky new releases of the Ford GT40 - C3916 Ford GT40 Sebring 1967 has previously been released as C3066, maybe they thought we wouldn't notice but here is a picture of the original release :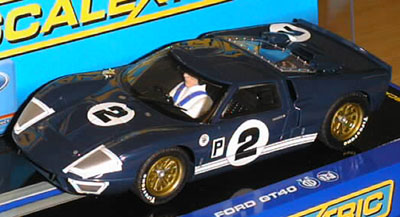 S-C3066 released some years ago
The Ford GT40 Gulf LM68 triple set includes the winning car with race # 6 that was previously released as C2403 and we have a picture of that one as well. It should be nice for Le Mans collectors to have the other two team cars which are actually new toSCALEXTRIC in the triple-set.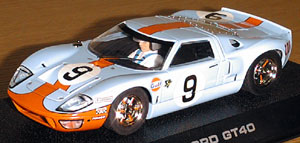 S-C2403 released some years ago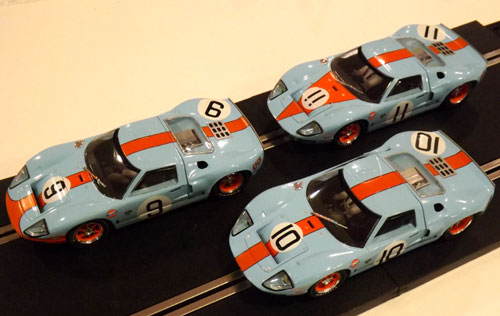 There are several new reliveries, especially on some Australian models, and some which are still under wraps such as the Ford Escort MK1 50th Anniversary car. At this stage we don't know if anything extra will be added later in the year, but you can see what has already been announced on the MRE website HERE
NEWS ROUNDUP
MANUFACTURERS PICTURE - POLICAR. The next Lotus 72 to arrive will be the Sasol Lucky Strike car driven at Brands Hatch by South African Dave Charlton. Not a livery seen much outside of South Africa so a nice addition to your F1 grids.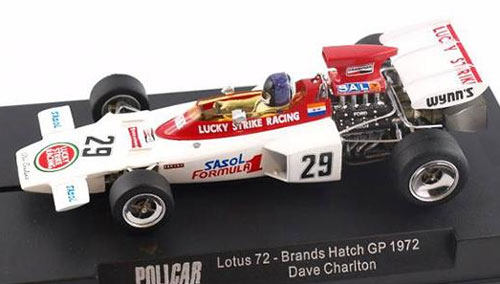 NSR CONFIRM PORSCHE 908/3. At Nuremberg last year we took a couple of snaps of two different bodyshells shown by NSR of their proposed Porsche 908/3. The first version to be released has now been confirmed as the Nurburgring 1000K 1970 winning car of Elford & Ahrens. We expect to get more news about this when we visit the 2018 Nuremberg Toyfair in a few weeks time.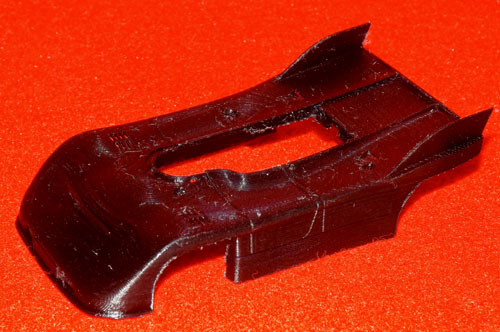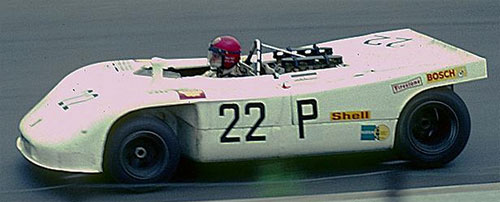 MANUFACTURERS PICTURES - SLOT.IT A few pre-production models have been leaked to the slot racing world, and most interesting is the Mercedes Cosworth 190E. This will be a nice addition to the DTM series and looks as though it will fit nicely between the Alfa Romeo 155 and the Opel Calibra. No details yet of which versions will be available. The Porsche 962C Rothmans car that won Le Mans 1987 is now signed off for production into the Ltd Ed Winners series. The first release of the Alfa Romeo 155 1995 cars will be the Martini version, one of the most popular DTM cars.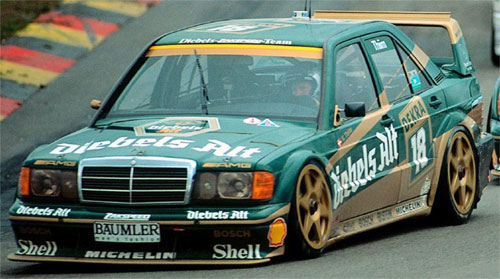 SI-CA44a Mercedes Cosworth 190E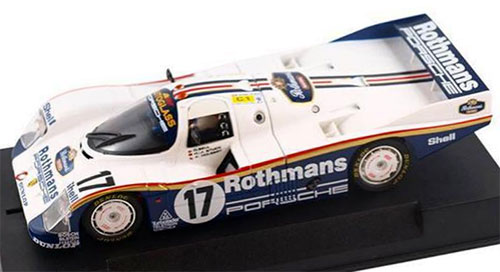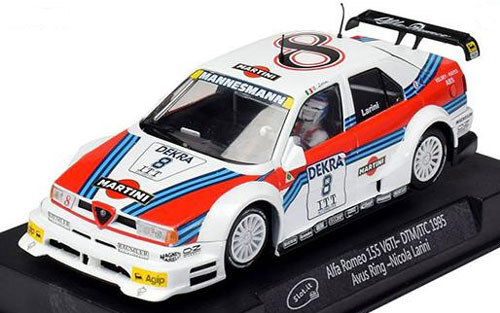 SCALEXTRIC CHEVY MONTE CARLO. Must admit we were a bit surprised to see this one. Not often SCALEXTRIC release a model with no direct racing partner, but maybe they are going to surprise us with something else later on. The fact it is a low-detail Super-Resistant model is disappointing, as is the fact it doesn't represent a real car. You can find several real NASCAR Chevy Monte Carlo cars, but no searches find a green white one with Velocity sponsorship, race # 99, or driven by A. Papadimas. Not enough searching by us, budget constraints at SCALEXTRIC, or something else ? Maybe SCALEXTRIC will tell us ?